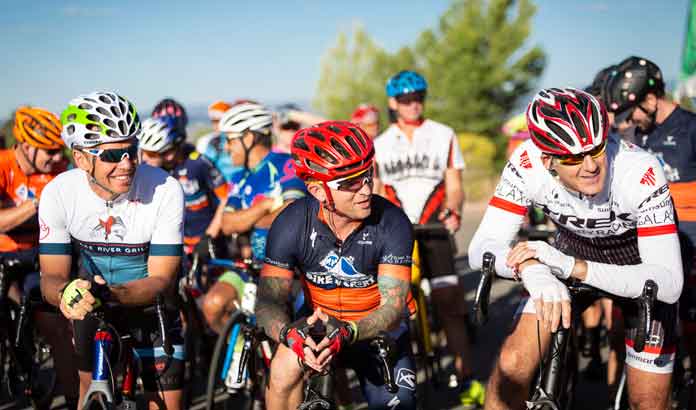 The 1st Annual Santa Fe Wine & Chile Fiesta Gravel Bike Ride
This friendly 33-mile Gravel Bike Ride starts at the Four Seasons Resort Rancho Encantado Santa Fe with breakfast from Chef Jose Fernandez.  Guest Chef cyclist Matthew Accarrino from SPQR in San Francisco will lead us out and up to Pacheco Canyon Road where the gravel and the fun begin. After 11 miles of gravel and 3,000 feet of vertical gain stop at Hyde Memorial State Park for a quick refreshment from Guest Chef rider Mark Kiffin of the Compound Restaurant.  Then it's an 11-mile coast downhill on Hyde Park Road to a quick right on Bishop's Lodge Road that then takes you 11 miles back to finish your ride at the Four Seasons Rancho Encantado. Upon arrival you will celebrate with Chef Accarrino's signature Michelin-Star pastas and bites from SPQR. Refresh your thirsty whistle with sips of chilled Champagne Lanson and ice-cold beer.
This is a friendly ride, not a race.  All riders are expected to follow the rules of the road.  We will stay off and out of the downtown streets for safety. Sponsored and supported by The Compound Restaurant Santa Fe, Tourism Santa Fe and Mellow Velo Santa Fe. 
7:30am Check-In | 8:30am Start